My name is Tanya Gaughan. My husband, Kevin and I have been married since 2003, and we have two sons. Matty was born in 2007 and Mikey was born in 2009. While in a breast-feeding support group meeting when my first son was about 6 months old, one of the other moms introduced me to cloth diapers. I immediately came home and ordered a dozen of my first cloth diapers! I've been hooked ever since. We used cloth on Matty from 6 months till he potty trained at 22 months. And, Mikey has been in cloth since his first diaper in the hospital! I love doing things as economically and as naturally as possible. Plus, the cute colors and patterns...How can you resist?? Best of all, I knew I was doing something good for my child and helping my environment too.
I am passionate about spreading the word about modern cloth diapers. I decided I wanted to help others learn about cloth diapering, and I'm excited to be a member of the Diaper Parties team. I'm located in the city Chicago, near Midway. Please contact me if you'd like more information about having a diaper party in your home, office, birthing class, lactation & breast-feeding group, or medical practice. I look forward to hearing from you soon!
I also have a Hyena Cart store where I sell handmade items for babywearing, breastfeeding and cloth diapering. Slings, nursing covers and fleece/wool diaper covers and sets are my specialities!
Tell us about your business:
Cloth diapering has changed so much in the past 10 years. Modern cloth diapers are practical and easy! Now there is a cloth diapering solution for almost any type of family out there! Whether you are looking for the least expensive, easiest, the hippest, the most practical, or the quick on the go solution, you have options. But, most moms (like myself) don't figure out a system that works best for you until you spend your cloth diaper budget on 5 different systems. So what's the best way to start deciding what cloth diaper is right for you? Take a look at them, feel them, get to actually see what they are before you purchase them.
A cloth diaper party is an opportunity for a group of moms (and moms to be) to come together to try out these diapers. Grab some dolls and try these diapers out! Practice putting them on. We give you some of our customers' recommendations on what covers work well with what diapers below. Each diaper and accessory comes with its own "cheat sheet" so you can read about the product and how to use it, while seeing, touching, and trying it! Pass the diapers around! Talk about them and share your ideas in a group.
Aside from the getting to actually see/feel the different cloth diapers, we have added a few incentives to get cloth diapers out there.
First, as the hostess, you will receive a 10% credit on the total purchase from your party! So if the ladies order $500 worth of diapers from the party- then you receive $50 in store credit, $1000 sold, you receive $100 credit!
Plus, everyone who orders at the party gets free shipping. - That includes ANY items you purchase(organic toys, breast pads, slings, birth supplies and much more in the catalog!) Birth tubs/pools are not included with free shipping.
Why did you become a WAHM?
I became a WAHM out of necessity, I wanted to raise my children myself but also needed to put dinner on the table. Providing a little extra income helps my family to make ends meet and ALSO helps me feel a little more like an adult! I am passionate about cloth and I want to teach the world about the perks!
How do you find the time?
I hold consultations and parties on the weekends and during the evening. My kids go to bed relatively early and therefore my parties usually do not disrupt their schedule, plus it gives daddy some quality time with his boys!

Tanya's Hyena Cart Store

Any tips for other WAHMs?
Find balance!
Be organized!
Allow yourself time away from the kids!
Out of all the products you sell, which one is your favorite?
I <3 the Tot Bots Easy Fit Diapers!
Ethically made, no loosing inserts, bamboo for a trim absorbent diaper... What's not to love??
Any specials or giveaways we should know about?
Become a fan of my facebook page or my blog to receive a coupon code for 5% off your entire order at
http://www.everythingbirth.com/
!
10% coupon code for my Hyena Cart: TheBig30
Facebook link:
http://www.facebook.com/pages/Chicago-IL/Diaper-parties-by-Tanya/155038157841641
Blog:
http://diaperpartiesbytanya.blogspot.com/
Hyena Cart:
www.hyenacart.com/mamatutu
Thanks for being this week's featured WAHM, Tanya!
Feel free to grab our WAHM Wednesday button for your blog!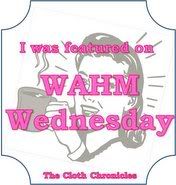 ♡